About Logiblocs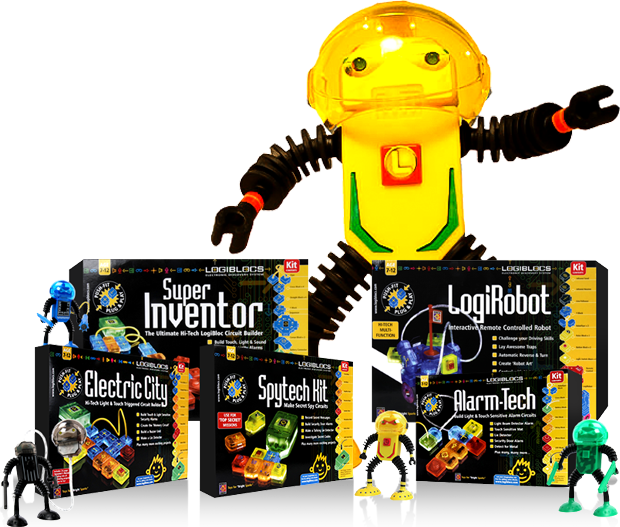 Welcome to the world of Logiblocs, the electronic discovery system that helps children understand the automatic and
interactive world we live in. Logiblocs were launched at Harrods London in 1996 and over 5 million blocks have been sold
throughout the world.
Logiblocs are colour coded transparent plastic blocks with electronics inside, each with its own function. By plugging
together the modular parts children can build control systems and gadgets that are fun and sometimes even useful!
Children can set up their room with door alarms or even record and play back secret messages automatically.
Logiblocs are presented as electronic kits or science kits that can work together. For instance,
the Gold Award winning LogiRobot can be controlled by Logibloc sensors but can also act as
a remote control vehicle using the InfraRed controller.
The LogiMen are for younger children and involve futuristic humanoid
robots with on-board sensors. They "live" in LogiCity in the year 4371
following the human exodus. They do also work with other Logiblocs.
Logiblocs have proved popular in education and are used in over
4,000 schools in the UK and in a growing number of countries
where there is a need to teach the subjects of control or design
technology in the curriculum.
Children do not need to know anything about electronics.
Children as young as 5 soon pick up the concept and enjoy the
coloured lights and sounds produced following the easy
step-by-step instructions.
We hope you enjoy browsing through our website. For further
information please contact our customer services department
at custserv@logiblocs.com.